Programme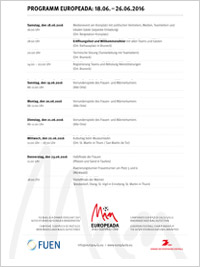 Programme [PDF
]
The EUROPEADA 2016 consists of programme elements in the good tradition of the previous tournament and some specific elements from the host region.

The EUROPEADA 2016 will be opened with a Welcome Ceremony, for which the whole EUROPEADA family, a number of guests of honour and friends will be invited. The venue is the tourist attraction Kronplatz and the Rathausplatz square in Bruneck.

From Sunday until Tuesday the group matches of the women's and men's tournament will take place. After the end signal the matches can be analysed, adventures can be shared and friendships can be refreshed. The EUROPEADA will also offer public viewing of the official UEFA EURO 2016 tournament.

Wednesday is the Culture Day, which allows an insight into the diversity of languages, cultures and identities. The central venue is the Museum Ladin in San Martin de Tor / St. Martin in Thurn. There will be a colourful programme with the following items:
10.30 Arrival
11.00 Welcome by guests oh honour and organisers
11.45 Performance
13.00 lunch
15.00 Concert by Jemm Music Proiect
14.00 – 18.00 Free visit of the Museum

From a sportive perspective the tournament intensifies from the quarterfinals on Thursday, the semi-finals and the women's final on Friday to the final of the men on Saturday - the much anticipated highlight of the tournament.

After the final match on Saturday the trophies for the women's and men's tournament will be handed over, followed by a final celebration where everyone can look back on the tournament and hopefully on many positive impressions.

The programme is being updated and developed permanently. The local organising team will provide offerings for the fans, guests and audience.